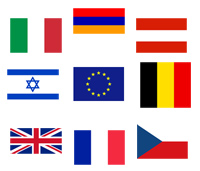 Having mutual cross-cutting priorities and working on the interface between health, education and teacher training, MedGen addresses development of teaching and medical workforce of medical genetics in Armenia and Israel. Through MedGen the partner countries will obtain highly required capacity to train their own experts and to graduate leaders for the coming revolution in clinical practice increasingly utilizing the tools of medical genetics for effective patient-oriented care and service to a diverse population.
The mission of the MedGen project is to produce innovative educational modules and programs defining and teaching competencies required in Medical Genetics and designed for the interactive medical practice and international cooperation in medical genetics.
MedGen is a cross-regional project involving 4 partner universities from Armenia and Israel and 6 EU organizations. The Armenian and Israeli universities are positioned well in their countries to become leaders in developing staff capacity and professional workforce in MG.
17/10/2016
During 26 September - 12 October, 2016 two different training courses where organized at the University Paris Descartes, France for the specialists of all four participant universities specialized in both clinical genetics and clinical laboratory genetics
Read more...
28/09/2016
The coordinator university, Yerevan State Medical University after M. Heratsi (YSMU) has developed five different learning materials on specific topics of medical genetics which are of high national interest and are included in the national policy of Medical Genetics in Armenia
Read more...
05/09/2016
During 31 August - 1 September, 2016, a special training program was organized by the Medical University of Graz and held at the Yerevan State Medical University, Armenia, for the specialists of the two Armenian universities
Read more...
12/07/2016
Field monitoring visit of the cross-regional project "Developing Medical Genetics Education through Curricular Reforms and Establishment of Postgraduate Trainings" (MedGen) in Armenia
Read more...
30/05/2016
On May 22, 2015 the annual meeting of the MEDGEN (Developing Medical Genetics Education through Curriculum Reforms and Establishment Of Postgraduate Training Programs) project consortium members took place at Barcelona, Spain, in the frame of the European Society of Human Genetics 2016 Conference during 21-24, May, 2016
Read more...
Search
«ԲԺՇԿԱԿԱՆ ԳԵՆԵՏԻԿԱՅԻ ԱԶԳԱՅԻՆ ՕՐ» կոնֆերանս
նոյեմբերի 4, 2017թ.




For The Collaboration please use Iversity